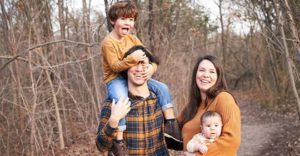 Drs. Homer and Sarah Johnson are a husband and wife Network Spinal Chiropractic team. Together with our five year old, Maxwell, we created our practice, Next Level Chiropractic. Our second son, Atlas joined us in fall of 2019. We met in Chiropractic School as Homer was ending school and Sarah was just beginning. We have been studying Network Spinal under Dr.  Donny Epstein and many of the top Network Doctors in the world since 2010.  Dr. Jarrett joined the team a few years ago and works Friday afternoons. Check out below for more about us.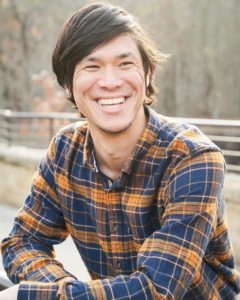 Hi, I'm Dr. Homer. I am a native Texan who grew up in South Texas and Houston. While in high school, I was able to participate in a pharmacy tech program to start learning about and working in a pharmacy. At the time, I wanted to be a pharmacist, so this was a great opportunity. I worked at a Walgreens pharmacy for 6 years through part of high school and most of undergrad at LSU. After 6 years, I began to notice that the people who came in every month were not getting better. They were at best staying the same. I decided this was not the path for me. After a bit of searching and an extra year in college, I found Chiropractic, a natural approach to healthcare that had recently helped my mom get out of pain. Once in school, I loved the philosophy, but found that the modern approach to chiropractic did not match the philosophy. Lucky for me, I would find Network Spinal Analysis about half way through school. My first entrainment changed everything for me. My Nervous System came out of "fight or flight" and I began enjoying life more and more. Even luckier for me, I met my beautiful wife Sarah a little after this. After graduation, Sarah inspired me to start Next Level Chiropractic in 2011. I love Network. It completely changed the trajectory of my life and helped my feel alive. This is why I do what I do. To help others feel alive and to live their best life!
Hey there! ?? I'm Dr. Sarah! I was born and raised in New Mexico and my journey in chiropractic started when I was 12 years old. I played competitive soccer all my life and it took a toll on my body early, so my dad started taking me to the chiropractor.
When I was 18 I tore my ACL, MCL, and Meniscus playing soccer and during rehab I fell in love with physical therapy, so I decided that's what I wanted to do. During my summer home, I told my family Chiro that I wanted to be a PT and he was like "why don't you work for yourself and become a chiropractor?" I WAS SOLD! I transferred universities and immediately started taking biology and chemistry classes.
I applied for the Fall 2010 class at Parker University and got in. A week before the May 2010 classes started, I got a call asking if I could come to Parker a trimester early. I talked with my parents, and instead of finishing the semester (my credits) and graduating from UNM I started Chiropractic school with every intention of being a structural adjuster (think crack pop). As I left for school, my Chiropractor said "don't go to school and meet your husband and stay in Texas.." because I was SUPPOSED to go back home and take over his practice.
At the end of first trimester at school, I met Homer. One day he took me to get my first Network Spinal Analysis entrainment and it changed the trajectory of my life.
Homer graduated in August 2011 and started Next Level Chiropractic in November 2011. I spent all of my "extra" time at the office as his CA while I finished school. Two years later, I graduated and joined the practice.
Our first year was crazy. I joined in August, we got married the following March, and May 2014 I was pregnant with our first son.
Network continues to make our lives better and I am so grateful to be one of the doctors bringing this transformative technique to the Dallas area.