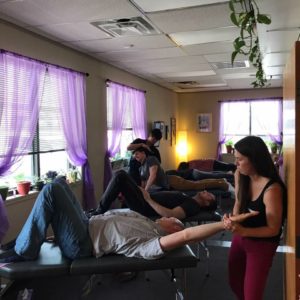 Drs. Homer and Sarah Johnson are Network Chiropractic practitioners providing Network Spinal Analysis and NeuroStructural correction to the greater Dallas/Fort Worth area since 2011.
Both Drs Johnsons have obtained Level 3 Certification form Dr Donny Epstein in 2016. We both have completed 3 full years of Master E training, and have worked as staff at the Epipaloozas or gates as recently as 2022. Both Drs are also on the Network teaching staff and have taught other Chiropractors and Chiropractic students at official Network Seminars as recent as 2021 (Staff is the highest level you can reach as a Network Spinal practitioner, and Master E is Dr Epstein's highest level of training ever to be given).
We have 2 boys ages 7 and 3 and a new little girl who is 9 months old. We have taken a small step back from Network staff responsibilities to focus on our growing family, but we are making sure to stay up to date with learning and refining our Network skill sets. Dr Homer attended and helped teach at a Transform seminar in 2021 and Dr Sarah attended the Awaken seminar in Oct 2021 and a Transform seminar in July 2022.
Our purpose is to provide a comprehensive solution to problems related to NeuroStructural shifts in the spine and nervous system, allowing your body to reorganize and work at its highest capacity. If you don't have any problems, that is even better. In either case, we would love to help you upgrade your Nervous System so you can get more out of life.
Next Level Chiropractic has served people of all ages and a variety of different spinal health conditions. Use our website to find the latest in health prevention news, and to find out if Network Spinal is right for you or your loved ones.
We are proud to serve practice members from the Dallas-Fort Worth metroplex and all over the world.
To learn more, or to make an appointment with Next Level Chiropractic call 972.331.1234 or send us an email to Schedule your consultation today.